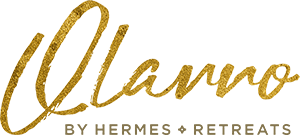 When's best to visit?
The beauty of Olarro is that it is a holiday destination offering magic all year round. July to October is when Olarro and the surrounding Masai Mara floods with life in the form of both the savannah's flora and the Great Migration. Witness the deluge of wildebeest, zebra and gazelle as they head north and into our conservancy and catch Kenya's top predators in action.
January to March is the dry season, when animals gather in large numbers around the remaining waterholes, making them easier to see. Whichever month you choose to visit Kenya, Olarro is a hive of activity season in season out and each experience will be an individual one.
How long should we stay?
Olarro is rich with experiences, both wild and luxurious, so there's no limit to how long you could spend here. Every day's different, and each one opens eyes to something new.
However, to make sure you don't miss out on the very essential spectacles – indulgent and untamed – we recommend a minimum stay of three nights.
What should we bring?
A quick wild kit list
Long-sleeved shirts that offer protection from the sun and insects
T-shirts
Shorts or a light skirt
Jeans or safari trousers for evenings and cooler days
Jackets and sweaters for early morning and late afternoon game drives
A lightweight waterproof jacket in case of rain
Comfortable walking shoes
Sunscreen, sunglasses, a hat, insect repellent, moisturiser and lip salve
Binoculars and camera equipment
When it comes to packing, remember that the maximum luggage allowance on small and internal flights is usually only 15kg. Please pack accordingly, but we do offer a laundry service, which takes 24 hours to help with this restricted limit.
Inside Olarro's walls
From the second you step into Olarro, you'll notice its relaxed ambience. So drop formalities and pack for comfort. Essentials should include a hat, sunscreen, insect repellent and binoculars. Nights here are cold, so make sure you have something warm to wear in the evenings.
Out on safari
Comfortable, casual clothes that are easily washed – that's our recommendation for safari. Choose muted colours – khaki, green, beige or another neutral tone. The subtler the colour, the better your game viewing chances.
Our game drives tend to take place early in the morning or late in the afternoon. This can be cold, especially in winter. However, temperatures will rise throughout the day. Layering will help you stay comfortable.
How to get here
By helicopter – a transfer that's both beautifully scenic and luxuriously comfy.
This is not just a transfer but an aerial safari – arrive at Olarro having gained a bird's eye view of its surroundings.
The helicopter journey departs from Nairobi and takes you directly to our helipads at Olarro Lodge so you walk straight into your room, no onward journey required other than a short drive through our conservancy if Olarro Plains is your choice of accommodation. The flight lasts approximately one hour, but this transfer is as much an experience as it is a means of getting here. Take this opportunity to see the savannah's sights before touching down at Olarro.
By air – the most comfortable way to arrive.
From Nairobi's Wilson airport, take a 50-minute charter or scheduled flight to Siana airstrip, where you will be met by one of our private drivers who will take you on to Olarro. This is when your safari experience really begins: a 1 hour drive through stunning scenes, taking in breathtaking views like no other, and becoming familiar with your new surroundings.
Charter flights also depart from and land at Jomo Kenyatta International Airport (JKIA).
By road – a breathtakingly scenic arrival.
The drive from Nairobi to Olarro takes 4 hours, approximately. Though long, it does take in some arresting vistas, heading out from the city along the Great Rift Valley escarpment, down across the valley floor, before climbing up into the Loita foothills. Signage is limited, so GPS is essential.
For an additional cost, we can arrange the following on your behalf:
Transfers within Nairobi
Transfer from Olarro to Nairobi by car
Transfer from Nairobi to Olarro by car
Domestic Flights (via Safarilink or Air Kenya)
International Flights
Charter Flights
Helicopter Flights.
If there's anything you'd like us to book, please get in touch with any necessary details and we'll take care of everything for you.
We can also provide meet and greet services at Jomo Kenyatta International Airport (JKIA) to help with the following:
Personal assistance to/from the gates
Assistance from respective departure unit/drop off point
Assisting passengers from/connecting to private charter planes
Assistance with airport formalities (immigration, customs etc.)
Pre-boarding assistance
Group/family check-in
Assistance with baggage handling.
Again, this is an extra service with an additional charge. Contact us with details of your stay and anything you'd like us to organise for you.
What does 'all inclusive' include?
To ensure that your relaxation is total, our escapes are all inclusive. A bite to eat, something to drink – it's all part of your package. But as well as the essentials, you're also free to indulge in two Olarro experiences* every day.
Here are the details of what's included:
Accommodation on a full board basis
Beverages (including tea, coffee, bottled water, soft drinks, local beers, house wines and select spirits)
2 activities each day from the following list:

Guided day game drive
Guided night game drive
Quad biking for guests 16 years old and above
Cultural visit to the Masai Village
Bush dining, sundowner and picnic excursions
Children's activities
Educational visit to the Olarro Conservancy HQ

One complimentary excursion to the Masai Mara National Reserve when booking 4 nights or more during High season (01 Jun to 31 Oct) – valid for direct bookings only
Transfer to and from Siana Airstrip (approximately 60 minutes each way)
Laundry service
And here are the details of what's excluded:
All park fees in Masai Mara National Reserve and Olarro Conservancy Fees (Adult: USD 47 / Child: USD 24 per person per night)
Entry fee to Masai Village
Premium alcoholic drinks (champagne, luxury spirits and special wines)
Hot air balloon safari and helicopter flight
Guaranteed exclusive use of the vehicle
Babysitting services
Spa treatments
Gratuities
Passports and Visa requirements
All foreign visitors need to have a passport that will still be valid 6 months after the intended stay. This also has to have at least two consecutive blank visa pages. If you're travelling through more than one country, we recommend leaving 3 to 4 consecutive pages blank. You could be denied entry if there isn't enough space.
If you're travelling from Tanzania to Kenya, you'll need a valid Kenyan visa before you travel to confirm domestic flights between Nairobi and the Masai Mara National Park.
If you're arriving at Dar es Salaam or Kilimanjaro airport (Tanzania) and then travelling on to Kenya, you'll also need a Kenyan visa before travel.
Depending on your nationality and country of origin, the visa requirements may vary or change without notice. We advise checking with the appropriate consular authority before your departure. If they advise you that visas can be obtained on arrival, make sure you have the right fee available. We recommend carrying this in small denominations of US dollar bills, as officials may not have enough change.
If you do require a visa to enter Kenya, you can apply for an eVisa here.
Photography
Please be sensitive when photographing people. Kenyans are renowned for being friendly, however it is courteous to ask permission before snapping away, especially with Masai.
We do not allow the use of drones in any of the conservation areas.
Itineraries
Life is wild and unpredictable here, so the best itineraries are those that are flexible.
Rather than plan every second of your day, first familiarise yourself with the experiences we offer. Decide what you'd like to do. Then leave your Olarro manager to arrange everything; we will ensure that you see and do it all at exactly the right time.
Day-time game drives
Night-time game drives
Full day on the Mara
Quad biking
Bush dining
Village visits to meet local tribes
Spa and wellbeing treats
Helicopter flights
Balloon safaris
Safety
Secure fencing surrounds both Olarro Lodge and Olarro Plains. Each compound's protective barrier keeps you safe from wildlife, but never interrupts or intrudes on your view.
We also have a full security team and ranger force. They patrol our properties day and night and escort guests when required.
To ensure complete safety, it is essential that guests adhere to our policies and any potential warnings given during your stay.
Medicines and vaccinations
For general health advice, information about medicines and vaccinations for Kenya, visit www.gov.uk/foreign-travel-advice/kenya/health
Situated in amongst hills, Olarro Lodge and Olarro Plains both sit at too high an altitude for mosquitoes to be a problem. This means cases of malaria are rare here. However, you may still want to protect yourself, should your journey take you into areas where malaria and mosquitoes do occur. We recommend discussing this further with your doctor.
Safari with children
From Masai Mara themed activities, designed to keep active imaginations entertained Kenyan-style, to babysitting services, an Olarro safari is an incredibly child-friendly experience.
Both our retreats are surrounded by secure fencing – keeping the wildlife out and the children in.
All children's activities, including nature walks, take place within the protected perimeters of Olarro Lodge and Olarro Plains, and under the ever-watchful eyes of our specially trained guides.
For their own safety, we do not allow children under the age of 16 on our quad bike safaris, which take place outside the protected confines of the Olarro retreat compounds.